Prawn Fritters: A Malaysian Tea-Time Snack
**We're so happy to have Jo from Sugar & Everything Nice submit this guest post for us at Chew on That!**
Cucur Udang or Prawn Fritter is an all-time favorite tea time snack in Malaysia. This snack is also called "jemput udang". If you literally translate the words, "jemput" means "invite" and "udang" means "prawn". So I guess this snack is really inviting you to have a taste.
These fritters are usually made into bite-size pieces and therefore make for great finger food. They are crunchy on the outside and the inside is soft and moist when you bite into it. I have used prawn in this particular one but sometimes the ingredients can be varied to include anchovies, thus calling it Cucur Ikan Billis or Anchovy Fritter. You could also use corn kernels as another main ingredient.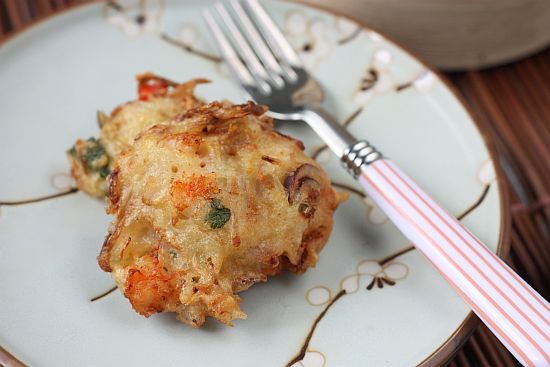 These fritters can be found commonly at road-side street carts in Malaysia, in the day time and even at night markets. The ones sold outside are usually round and if they are prawn fritters, a small prawn with it's head and shell intact, is placed on top of the batter before being fried.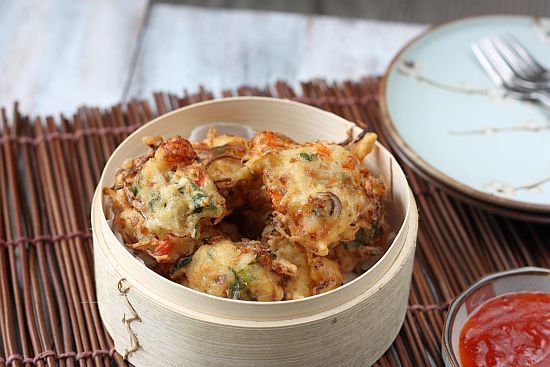 Cucur Udang (Prawn Fritters)
Makes about 20 fritters
Ingredients:
1 1/3 C. all purpose plain flour
1/2 cup water 1 small eggg, beaten
1 medium size red onion, thinly sliced
1 red chili, thinly sliced
1 small bunch of green onion, chopped
1 small bunch of chinese coriander, chopped
1 cup loosely packed beansprouts
10 medium sized prawns, shelled and cut into chunks
1/2 teaspoon salt
Pinch of white ground pepper
Method:
1) Mix flour, egg, salt, pepper and water. Mix until combine and batter is smooth. The batter should be thick and not too watery.
2) Add in the rest of the ingredients and combined until it is all mixed together with the batter. Set aside.
3) Heat a deep frying pan with cooking oil, about 2 cm height. When the oil is heated, turn it down to medium fire. Then drop large tablespoonfuls of the batter into the oil. Do not crowd the pan. Fry on each side until golden brown, about 3 – 4 minutes.
4) Transfer to a rack to cool. Serve warm with home-made chillie sauce.
Chillie Sauce
Ingredients:
10 dried chillies, soaked in warm water for about 10 minutes
8 fresh red chillies
2 cloves garlic
1/2 cup water
2 Tbsp brown sugar
Juice of 3 limes
Salt to taste
Method:
Place the chillies, garlic and a bit of water into a blender and blend until fine. Place the ground ingreidnets into a saucepan, add water, brown sugar and salt. Cook over medium heat until thicken. Then add in the lime juice to taste.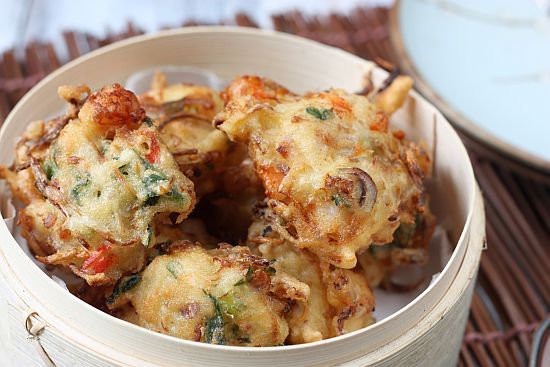 Thanks Jo from Sugar & Everything Nice!
Tags: cucur udang, malaysian food, malaysian fritter recipes, malaysian prawn recipes, malaysian recipes, prawn fritter recipes, prawn fritters