The Food Network Presents: The Cooking Channel!
This coming Monday, May 31, The Food Network is launching a brand new channel!  Everyone here at Chew on That and Recipe4Living is very excited to see what exciting shows The Cooking Channel will bring.  Keep reading to learn more about what it has to offer.The Cooking Channel will be replacing Fine Living Network, a channel that primarily features reruns of various programs.  The programs on the Cooking Channel will lean more towards an instructional format and less toward reality or competition-based styles.
Many of your favorite celebrity chefs, including Emeril Lagasse, Rachael Ray, and Bobby Flay, will star in their own series on the channel.  Lagasse's program will show you how to make quick, fresh meals, Ray's will teach you how to make all your weekly meals in one day, and Flay's program will focus on delicious brunch recipes.   The channel will also introduce many new cooking personalities, including several Canadian and British chefs.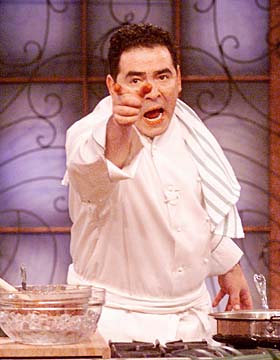 The launch of the new channel coincides with Memorial Day, so switch on the channel when you have some downtime and you might just get some perfect last-minute recipes for your celebration!
Also, visit Recipe4Living and Chew on That for upcoming interviews with some of the chefs from The Cooking Channel!
More like this:
Plan a Quick and Easy Memorial Day Barbecue Party!
"The Next Food Network Star" Season 6!
Top Chef Masters: A Look at Season 2 So Far
Tags: Bobby Flay, brand new, channels, cooking channel, emeril lagasse, Entertainment, food network, may 31, memorial day, programs, Rachael Ray, television, tv, tv shows