The Candy Corn Debate
[Images via Serious Eats]
Yesterday, October 30th,  was National Candy Corn Day, but today we're going to dish about how we really feel about candy corn. Are you anti-candy corn or pro-candy corn? Serious Eats, one of my favorite food blog communities, posted arguments both for and against the candy corn phenomenon. It's clear by the amount of comments that readers prefer the anti-candy corn stance, but where do you stand?
Personally, I'm all for the cute concept but I despise actually eating candy corn. Made from possibly the nastiest, unhealthiest ingredients on Earth, I honestly don't think I've eaten more than a maximum of 5 candy corn kernels in my lifetime.
But, I have to say that I think having candy corn around is kind of a staple of the season and I believe it inspires many other cute, much tastier creations. For example:
These "candy corn" cookies come from The Recipe Girl and I think they would make an adorable addition to anyone's holiday cookie repertoire.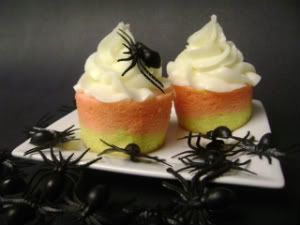 From I Heart Cuppycakes, these yellow and orange cupcakes are of course inspired by the famous candy corn.
And lastly, dubbed the "candy corn for grown ups" this bourbon pumpkin cheesecake from Smitten Kitchen takes the cake. The inspiration is in the name, rather than the actual food but it's proof that candy corn is proverbial and a definite part of our culture.
So how do you feel about candy corn? Make yourself a candy corn shooter and answer below in the comments! Happy Halloween!
Tags: candy corn, candy corn debate, holiday candy