Shape Your Breakfast!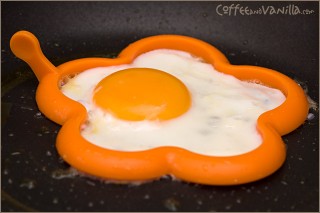 Wouldn't you like to add some flare to your breakfast? What if you're having people over for brunch, do you really want to serve plain old eggs and pancakes? Well, now you don't have to! I read about a cute little gadget over at Coffee and Vanilla. You can now shape your eggs or pancakes into little flowers! How adorable is that? :)
You can also buy hearts, circles, or stars…right from Coffee and Vanilla's Amazon store! Very cute!
Adios! Le ve cuando vuelvo de Argentina!
(Bye! See you when I return from Argentina!)
Tags: coffee and vanilla, egg ring, pancake ring