Eating Healthy with Amitabul
A friend of mine insisted I come with her to her new favorite restaurant, located in the Northern outskirts of Chicago, called: Amitabul. Now, it usually doesn't take much convincing for me to try out a new restaurant so of course I didn't put up much of a fight. But after finding out the restaurant was Vegan Korean cuisine, I knew hardly what to expect. I've never had Korean food before, and I really don't know enough about Korean cuisine to filter out what would or would not be classified as Vegan (except maybe the obvious: Korean barbecue!) But I was up for anything.
So I went in with no expectations and came out well fed, more educated, and unbelievably impressed.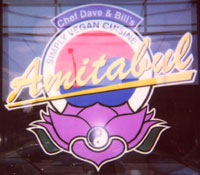 The term Amitabul is Korean for "awakening," a name that's more than fitting for this type of restaurant.
Run by Chefs Dave and Bill for over 30 years, all (or rather, most) of their ingredients are either grown organically or made entirely from scratch. They make their own noodles, their own tofu, their own potstickers…everything. They even make their own tea. And you won't find an ounce of sugar, salt, yeast or oil anywhere. Instead of using these additives, they ferment some of their ingredients to bring out their natural sugars. And tasting these dishes, you would never know the difference.
My dish (pictured at the top of this post) was heavenly. I couldn't decide what I wanted from the menu so Chef Dave offered to come up with something. He asked if I wanted rice or noodles, and how spicy I wanted it to be. Being a huge fan of spicy foods, I immediately responded I wanted it to be spicy but mid-ordering, I was persuaded by fellow diners who had been sweating from their spicy meals to go with the medium. So I hesitantly went with medium…with rice.
The sauce had a bit of a kick to it but as I suspected I would have like it to be spicier. Next time I'll go with the higher notch and see if I can handle it. But my favorite part was the nuts that hid themselves throughout my dish that added a crunchy and tasty surprise to every bite. Peanuts, filberts, cashews, pecans, all glazed in this delicious sauce and accompanied by the best concoction of vegetables I've had in awhile. Cauliflower, broccoli, cabbage leaves, carrots, peapods, red and green peppers…all fresh and delicious.
This was what he made my friend: sweet potato noodles with tofu, potstickers, vegetables and Chef Dave's black bean miso sauce. Again, no sugar but it tasted sweet and delicious. I loved the noodles and would never know the difference between pasta and these sweet potato noodles.
As we sat there eating dinner our meals, my friend taught me more about the restaurant. The entire menu is fashioned by the Buddhist approach to healing through food. Cooking with zen energy and cooking processes, Amitabul is well known for feeding cancer patients and nursing them back to health through nutritious, organic and healthy dishes. Not to mention, their food is said to cure more everyday illnesses like the flu, colds, and even hangovers (hopefully not an everyday ailment!) They even offer meal plans for a set price each month and send you home with 5 meals a week.
Their boundless menu (literally, because he continues to make dishes that aren't even on the menu) consists of soups, salads, stews, noodle or rice dishes, grilled pancakes, and other Korean specialties. The whole experience made me want to come back and try everything else on their menu. Even the beverages are amazing…I had a sip of my friend's ginger tea (reminder: it was homemade) and nearly drooled at all the smoothies from kiwi to papaya mango. They even make maple cookies from scratch out of brown rice (really unique and really delicious).
So, if you couldn't tell, I highly recommend Amitabul. And I've only been there once. I plan to go back so maybe I'll see you there. As for the website, there is a fictitious website with correct location information and hours but please note that it was NOT made by Amitabul themselves. The site offers a 10% discount that does not actually exist so be careful.
Amitabul
6207 N. Milwaukee
Chicago, IL 60646
(773) 774-0276
Tags: amitabul, amitabul restaurant, healthy, korean cuisine, korean vegan, vegan cuisine